Medical writing agencies are integral to pharmaceutical companies and play a significant role in ensuring error-free, high-quality, timely submissions of drug marketing authorization applications and help companies get the submission right at the first time.
Pharmaceutical companies have to spend an average over USD 2.5 billion for getting a new drug to market and the costs are rising every day1. Only 50% of applications for drug marketing authorization (year 2000-12) were approved by USFDA on the first submission. Among applications that were delayed for approval, the median duration of the delay was 435 days. This leads to a substantial loss for pharmaceutical companies in terms of sales2.
So what are the barriers to marketing approval of a drug? There are multiple reasons for this: it maybe because the study failed to meet its objectives, or the study drug is less efficacious when compared to the standard of care, or the drug maybe unsafe with risks outweighing the benefits. These reasons reflect the genuine failure of the drug in achieving expected performance. Some reasons for delay or rejection by regulatory health authorities could be errors in study design and methodology, such as errors in dose selection or wrong choice of study endpoints. Other denials/delays are due to operational inefficiencies resulting in inconsistencies in the conduct of the study and results, along with compliance and documentation issues. Documentation issues alone contribute to 3% of rejections3. Among these reasons, the operational, compliance, and documentation issues are highly preventable (Figure 1).
Figure 1. Applications for New Drugs– Reasons for Delay and Denial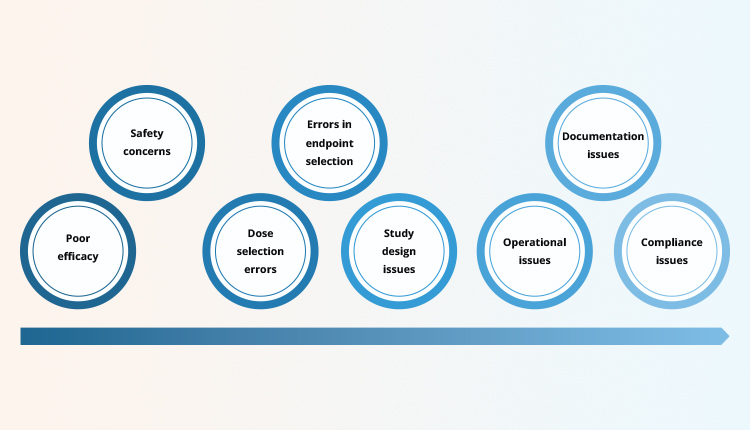 Low PreventibilityHigh Preventibility
Amidst, enormous pressure to get things right the first time and prevent any delays in regulatory decision-making, pharmaceutical companies always look for effective measures to achieve success. Among other measures required to increase the rate of acceptance, documentation issues are very much under control and can be easily fixed. Few pharmaceutical companies meet their regulatory writing requirements by setting up in-house medical writing departments, while a large proportion of companies outsource to medical writing agencies.
Role of Medical Writing Agency in Drug Development
A medical writing agency partners with pharmaceutical companies early in the drug development stage and acts as a strategic enabler in the success of the drug development process. The medical writing team is typically involved throughout the drug development process (Figure 2). The role of a medical writer starts at an early stage by contributing to the preparation of a Clinical development plan (CDP). Early involvement gives the medical writing team a view of the big picture and helps them align to the drug development strategy avoiding multiple iterations and reconciliations that would happen otherwise. The medical writers are thus better positioned to understand the clinical team's requirement and process the downstream documents such as protocols, informed consent forms, clinical study reports, and regulatory responses etc.
Figure 2. Regulatory Medical Writing Through Drug Development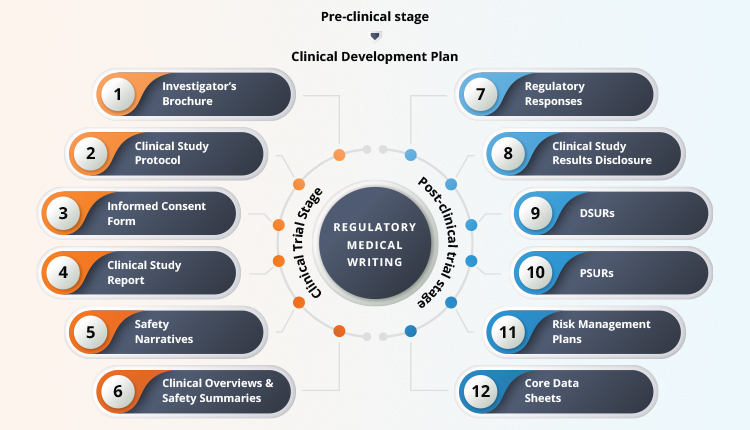 The medical writing team is essential and plays a cross-functional cementing role within and across the clinical team. They liaise and capture relevant information from statisticians, clinical operations, clinical scientists within the clinical team, and multiple stakeholders across different departments. They convert a huge amount of complex raw clinical data into a simplified, cohesive, and accurate storyline. The medical writing team not only creates high-quality, scientifically sound, and regulatory-compliant documents but also bring in operational efficiencies to pharmaceutical companies by optimally utilizing resources and time. They do so by well-defined processes, templates, checklists, and close monitoring of timelines from kick-off to submission of the documents.
A good, medical writing agency partners with and mirrors the pharmaceutical company's requirement. They ensure timely medical writing services through efficient project management, scientific research articulation, adherence to regulatory guidelines, cross-functional communication, and robust documentation. A knowledgeable agency through its systematic approach does a significant value-add to the client. Therefore, partnering with a good medical writing agency can significantly bring down delays and rejections associated with marketing authorization applications.
References
1. FDA, Dr. Gottlieb's Speech to the Regulatory Affairs Professionals Society (RAPS) 2017 Regulatory Conference, Sept. 11, 2017, Washington, DC.
2. Sacks LV, Shamsuddin HH, Yasinskaya YI, Bouri K, Lanthier ML, Sherman RE. Scientific and Regulatory Reasons for Delay and Denial of FDA Approval of Initial Applications for New Drugs, 2000-2012. JAMA. 2014;311(4):378–384.
3. Ana Cerúlia Moraes do Carmo, Stefânia Schimaneski Piras, Nayrton Flávio Moura Rocha, and Tais Gratieri, "Main Reasons for Registration Application Refusal of Generic and Similar Pharmaceutical Drug Products by the Brazilian Health Regulatory Agency (ANVISA)," BioMed Research International, vol. 2017, Article ID 7894937, 10 pages, 2017.
Enago Life Sciences is a leading global medical communications partner to healthcare and biopharmaceutical companies, offering a full range of services supporting brand strategies through development phases to commercialization. Whether it is an early development product with a potential market launch or a mature brand relaunch demanding a robust publication plan; peer-reviewed publications; medical educational material, or digital graphic design, we have the expertise to meet all your needs. Our global team of experts has extensive knowledge and unsurpassed experience in a broad range of therapeutic areas. We focus our innovation on factors critical to our clients – reducing time to market, reducing costs, and improving quality.